ONE-OF-A-KIND INTUITIVE BUSINESS CONSULTING & COACHING DYNAMICS
The Intuitive Freedom Difference
Embarking on this transformative journey with me is a one-of-a-kind experience. I provide a coaching and consulting style that places a strong emphasis on personal accountability, intuitive insights, and the integration of healing modalities, all seamlessly intertwined with my deep business knowledge.
Within our group Alignment Sessions, I will prioritize the insight business questions,  integration & clearing requests for those who are live, and answer all inquiries sent in for that week, and offer additional brand training as time allows. Here are the key pillars that guide my work:
INSIGHT
"DOWNLOADING THE DATA"
We'll explore the Field for insights into your business to give you a behind-the-scenes upper hand that creates alignment & success.
Whether you refer to it as Universal Intelligence, Pure Potentiality, Source, God, or the Quantum Field, all solutions reside within what I call The Field. Our ability to uncover these solutions always hinges on your intention or purpose. Quantum Physicists have compellingly demonstrated that time doesn't unfold in the linear manner we conventionally perceive it. Instead, we are unveiling the understanding that all things coexist simultaneously in distinct dimensions of time, awaiting our choice to manifest them.
INTEGRATION
"CLEARING THE BLOCKS"
This is an exceptional session when we will address both the minor and significant obstacles that are hindering your path to achieving clarity, confidence, and alignment with success.
 I employ distinct integration techniques including Quantum Integration. Each method has its unique approach, enabling you to embrace genuine freedom throughout your journey.
The transformation you experience won't just be evident in your business but will also have a profound impact on your personal life, allowing you to see and feel the positive changes.
IMPLEMENTATION
"GETTING SH*T DONE"
This is the space where we bring your business to life through brand and business development, marketing, sales, media, investor decks, etc. - whatever you need and whatever it takes!
We also work on Accountability as it is the compass that keeps you on course toward your goals. It's the commitment to take ownership of your actions, ensuring you stay aligned with your aspirations. Within our community, accountability partners support and inspire each other, making success an inevitable destination.
A Unique & Powerful Curation For Your Entrepreneurial Journey
Whether it's business strategies, personal growth, spiritual enlightenment, or any other facet of life, ASPIRE is a gateway to a higher level of understanding and consciousness. Join us in this extraordinary journey, as we share the gifts bestowed upon us by Spirit and collectively expand our consciousness toward a dimension brimming with divine knowledge and limitless possibilities.
Monthly Intuitive Training & Insights
Unlock your innate potential and harness the profound synergy between business acumen and spiritual intuition. During the Alignment Sessions, we will fine-tune your intuitive capacity while connecting you with your higher self. There is a boundless wellspring of wisdom within just waiting to reveal itself.
RSVP Now
Monthly Integration Sessions
A sacred space where we delve deep into the realms of Quantum Integration Healing. This transformative modality is designed to clear the energetic blocks that hinder your progress, allowing you to transcend issues and step into a new dimension of possibility. We will collectively open channels of energy, break through barriers, and usher in a higher state of consciousness allowing you to work and create in flow.
RSVP Now
Monthly Implementation Sessions
A sacred space where we delve deep into the realms of Quantum Integration Healing. This transformative modality is designed to clear the energetic blocks that hinder your progress, allowing you to transcend issues and step into a new dimension of possibility. We will collectively open channels of energy, break through barriers, and usher in a higher state of consciousness allowing you to work and create in flow.
RSVP Now
Intuitive Activation & Guided Audio
Experience the transformative power of the Intuitive Activation Guided Audio, e-Book, and Journal. This profound activation unlocks your inner wisdom, connecting you with the guidance and clarity you need to navigate your entrepreneurial journey, life's challenges and opportunities.
Download Now
Self Coaching & Healing Course
I'm thrilled to offer all our valued members access to the Self Coaching & Healing Course, a transformative journey designed to empower you with the tools to navigate your personal and professional growth. It's an opportunity to explore your inner potential and harness the power of self-coaching and healing. Plus, remember that during Office Hours, I'll be there to provide you with any assistance you may need.
Start Course Now
Exclusive Downloads
Step into the realm of profound wisdom from Source as I offer weekly downloads. These sacred transmissions received directly from Source (The Field) cover a wide spectrum of topics, offering profound insights, guidance, and revelations. As a member of our community, you'll gain privileged access to these transformative downloads, each one a precious key to unlocking the secrets of the universe. 
Stay Tuned
Like-Minded Community
We cherish the power of community. Our circles are safe spaces where like-minded individuals gather to share experiences, and insights, ask questions, and dream. We prioritize feedback and mutual support as we collectively grow on our unique journeys.
Check Out the Circles
Exclusive Sound Healing & Meditation Circles
Dive into a world of tranquility & activation, where the profound power of sound & your breath accompanied by my guided meditations will guide you toward a state of freedom and self-discovery. Each session is carefully curated to help you release stress, enhance mindfulness, and rejuvenate your spirit.
Stay Tuned
VIP Business Retreat Invitation
Save the Date: February 1 - 19, 2024
Join us in this exquisite setting, where the convergence of business brilliance and spiritual enlightenment takes center stage. Over these three transformative days, you'll immerse yourself in a carefully curated program of intuitive workshops, energy healing, and deep self-discovery.
Stay Tuned
Coming Together Offline
On the left sidebar, you will find Circles which are feeds where we can chat, ask questions, introduce ourselves & more! Here is an outline about each circle:
Introduce Yourself
Here, you can introduce yourself, share your current projects, connect through social links, and let us in on the things that light up your free time. It's a place where we, as Aspire members, unite to cultivate authentic connections and inspire the extraordinary within each other. 
Alignment Sessions
In our Alignment Sessions Circle, we revisit and recap our transformative clinics, delve into the insights gained, and keep the conversation flowing with more questions to fuel our collective growth and empowerment. It's the heart of our journey, where we nurture the seeds of wisdom planted during our clinic sessions and watch them flourish. 
Insight Circle
In our Insight Circle, members share their profound experiences with intuitive activations, the downloads they've received, and how they're harnessing their intuition to shape their path. It's a space where the magic of intuition unfolds, and we empower each other through the wisdom we unlock.
Integration Circle
Within our Integration Circle, we come together to discuss the art of integration, healing journeys, and provide valuable feedback and answers to questions that arise along the way. It's a nurturing space where we collectively embrace our transformations and support one another on this beautiful healing journey. 
Implementation Circle
In our Implementation Circle, we provide a dedicated space for members to ask their burning business-related questions, engage in meaningful discussions, and hold each other accountable for the incredible steps we're taking in our entrepreneurial journeys. It's where your dreams and goals become tangible realities.
Accountability Partners
Our Accountability Circle is where you can find like-minded individuals to pair up with as accountability partners, ensuring you stay on track and reach your goals. It's a dynamic support system to help you thrive in both your personal and professional endeavors.
Sound Healing & Meditations
The Sound Healing & Meditations Circle is where I will be uploading the recording for you to download. They will offer you moments of calm, focus, and integration for your daily routine. 
Q & A
In our General Q & A Circle, you have the freedom to ask any questions that may not fit into the other circles. It's a space for curiosity and exploration, where no inquiry is off-limits. Your answers are just a question away.
Coming Together Online
Check out the dates and times for the upcoming Alignment Sessions. For best results, block out the times in your calendar and prioritize these clinics as part of your self-care, business development, personal growth, and accountability protocol.
Don't forget to RSVP!
November
---
THEME: BUSINESS INSIGHT & ACTIVATION
Tuesday, Nov 14 @ 5:00 PM - 6:00 PM PST / 8:00 PM - 9:00 PM EST
THEME: MONEY MANIFESTATION
Tuesday, Nov 28 @ 5:00 PM - 6:00 PM PST / 8:00 PM - 9:00 PM EST
Submit Questions - Challenges - RSVP Below
 In our dynamic community, your questions are valued and celebrated. Whether you seek intuitive insights, guidance on integration issues, or need assistance with business implementation and accountability, this is your space to ask.
We also welcome questions about intuitive activation and the transformative self-coaching course. Our dedicated support team, led by Monique, is here to provide the answers and guidance you need to elevate your personal and professional journey. Your questions are the stepping stones to your growth, and we're here to help you every step of the way.
Insight Questions 
Submit your challenges and questions for Intuitive insights & guidance.
Questions will be answered during Alignment Sessions.
Integration Questions 
Submit your resistances & blocks for Integration.
Questions will be answered during Alignment Sessions.
Implementation Questions 
Submit your questions regarding business protocol, strategy, etc.
Questions will be answered during Alignment Sessions.
 ​Intuition Activation Meditation Guided Audio, e-Book + Journal  
Learn How To Instantly Connect To Your Intuition 

​To Answer Any Question; 

Anywhere, Anytime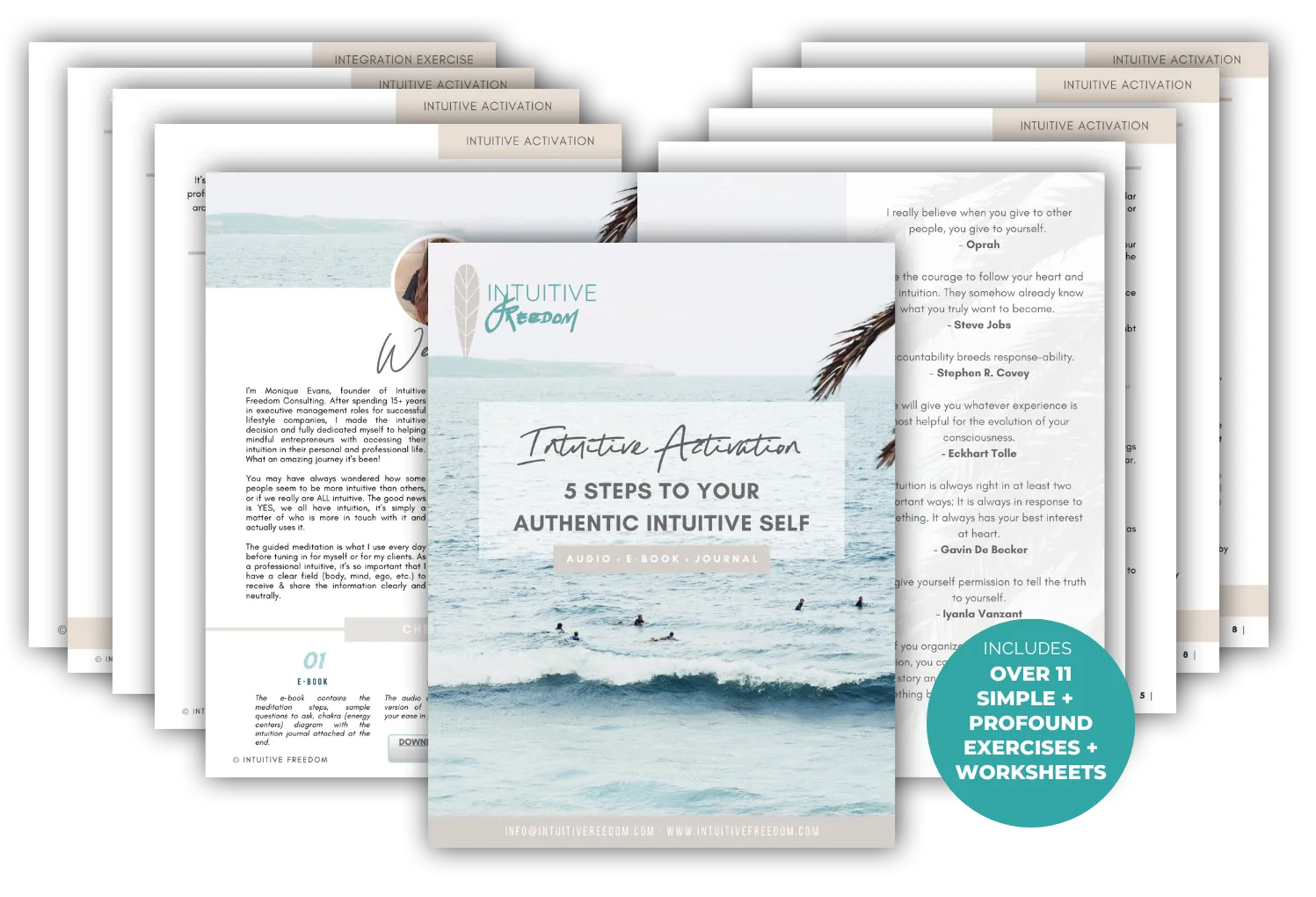 THE CONSCIOUS ENTREPRENEURS
Self Coaching + Healing Course 
Includes Guide, Workbook and Monthly Group Sessions with Monique
For entrepreneurs, leaders, and individuals who are passionate about personal growth and seeking to enhance their journey towards success and fulfillment.
Spread the Love &
Let's Build Each Other Up
 Invite A Friend - Help Kids & Teachers Get Classroom Supplies - A $10 Visa Gift Card For You
When you Invite a friend and they join ASPIRE  after their 7-day free trial, you'll receive a $10 Visa Gift Card & ASPIRE will donate $10 to Donors Choose; supporting teachers and students getting necessary supplies in the classroom.
I've already created a custom email invite for you to send to your friends (we're nifty like that). Fill out the form below and check your email for your custom email invite template.
If you don't immediately receive the email, please check your junk mail.